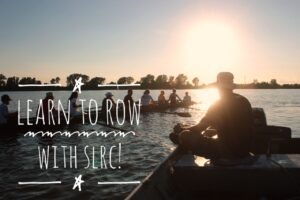 Our 2021 Learn to Row classes are sold out for this year. Check back with us in 2022 for March classes forming.
ADULT LEARN TO ROW PROGRAM
An introduction to the sport of rowing by the St. Louis Rowing Club for adult men and women.  All individuals new to the sport of rowing are required to complete a 10-session Learn To Row (LTR) class.  Each class is spread out over a month and classes are held in March, May, June, July and August. In this class, you will be introduced to:
Benefits of rowing  •  Building strength  •  Teamwork  •  Fitness  •  Correct rowing technique  •  Boathouse and facilities  •  Equipment used in rowing  •  Proper boat and equipment handling
Instruction begins with a brief history, tour and discussion of rowing terminology, technique, and safety. After learning the basics of the rowing stroke on an indoor rowing machine, weather allowing, you will get hands-on experience in an eight person shell. Following a brief lesson at the dock, you will push off and head out to open water. Lessons will then be focused on proper body position and movement, building boat speed, and working together as a crew. This is a unique opportunity to improve your health, make new friends, and spend quality time at beautiful Creve Coeur Lake.
Once you have completed the Learn To Row program you will move to the Adult Intermediate Group and continue to hone your rowing skills.
Each 10-class Learn to Row session is just $295.  The March LTR fee covers club membership through September of that year.  At that time, participants may choose to join the club for the remaining balance of the yearly club dues.   For more information, call 314-434-8299 or email treasurer@stlouisrowingclub.com.
SOLD OUT June LTR will be held on Tuesday / Thursday (6-8pm) and Sunday (8-10 am), beginning June 1st SOLD OUT
SOLD OUT July LTR will be held on Monday / Wednesday  (6-8pm) and Saturday (10am -noon), beginning July 12th SOLD OUT
SOLD OUT: August LTR will be held on Tuesday / Thursday (6-8 pm) and Sunday (8-10am), beginning August 3rd SOLD OUT
Register for our Learn to Row here!
After completion of your LTR session, you automatically become a member of our Novice Master's Team.
Please send any questions regarding the completion of this form to registrar@stlouisrowingclub.com
Learn to Row: ● If you withdraw from LTR 10 days before the start date, you may receive a credit for another program or a refund less a $25 processing fee. ● If you withdraw from LTR less than 10 days before the start date, you may only receive a credit for another program. No refunds will be given. ● NO REFUNDS WILL BE GIVEN ON OR AFTER THE START DATE OF THE PROGRAM.
>> GIVE THE GIFT OF ROWING!!  Gift certificates are available HERE. <<
=============================================================================
2021 LEARN TO ROW WORKSHOPS

These are short introductory Learn to Row workshops.  We will start on the rowing machines indoors, and then move onto the water.  If time permits, we will take a boat for a short trip on the lake.  This is open to the public.  Participants must be 18 or older.  There is a nominal fee of $30 for this 2.5 hour session.  Contact registrar@stlouisrowingclub.com for more information.
2021 dates coming soon! : 
These workshops are a great way to be introduced to this amazing sport… just to try it out or to help you decide whether you might like to continue with one of our 10-class sessions in the future.
=============================================================================
All Learn to Row participants should wear workout clothes (nothing too baggy since it can get caught in the slide on the erg/boat), and bring a water bottle, sunscreen, & sunglasses.
IMPORTANT SAFETY NOTES:
Due to the physical nature of rowing, there are limitations on who can safely participate.  While we want to encourage newcomers to try this great sport, not all will be able.  If you or your medical professional have concerns regarding your health, flexibility, stamina, strength and/or stature, please let us know prior to signing up.  Evaluation by an SLRC coach of one's skills and/or ability to row will also be a part of the determination of an individual's level of participation.
Additionally, it is imperative that all participants be able to swim.  While it is rare to end up in the water, the danger posed in being unable to swim is too great to risk.
HELPFUL RESOURCES:
For additional information, below are some informative videos: